THE CON ARTIST

You have entered the world of The Con Artist, or as he is better known The Rye-Machine. Accompanied by me, the guy who takes the pictures. We have made it our mission to get The Rye-Machine's picture taken with every costume clad person we can find. So sit back and relax because this should get interesting. Just click the images below to enlarge and let the fun begin!!!


TORONTO 2003


















WIZARD WORLD CHICAGO 2004
Our first trip to the "Windy City" was a keeper. The show was the ultimate hotness. There were so many costumes that we couldn't even get to them all. But we did have the opportunity to meet everyone from a kook of a Jedi to the creepiest guy in a Xizor costume you have ever met (when I tried to shake his hand he made a gesture like he was putting a cigarette out in my eye, now that's kooky). I have to give props to Beetlejuice that guy was a character himself. And anyone in a Chewy costume is the ultimate hotness but I have to give the best of show award to Cap'n Jack Sparrow cause his costume was pretty impressive and he had the whole bit going a little too well. If you ever have a chance to meet the Widdle Monsters they too are as kooky as they come. All round it was a wicked slick show and we will definatly be back next year. Until next time onwards and upwards.

Rye-Machine
See y'all in Toronto

TORONTO 2004 AUG 27TH-29TH
DAY 1: Aw ya, aw ya. Toronto is only a day old but we gots some sweet pics already. Actually we only showed up with a half hour to go but we still got alot done. Anyways here's a small sample of whats to come Saturday and Sunday. If you see us at the show don't be afraid to come up and say hi or get your picture taken with Rye. Don't forget to send us your pics from other shows too!

DAY 2: Sweet lord it was Cosplay insanity!!! There were so many people today we were almost overwelmed. Luckily everyone was awesome and we got tons of pics! If Sunday is anything like today I don't know if we will be able to fit many more onto the site. Don't forget if you got a website and you are in one of the pics send it to us and we will link it to this site. See ya Sunday!


DAY 3: Well we are worn out. The show was great. If you know of any smaller conventions where cos-players meet please let us know. We would love to get more pics for the site. Thanks for a fun weekend.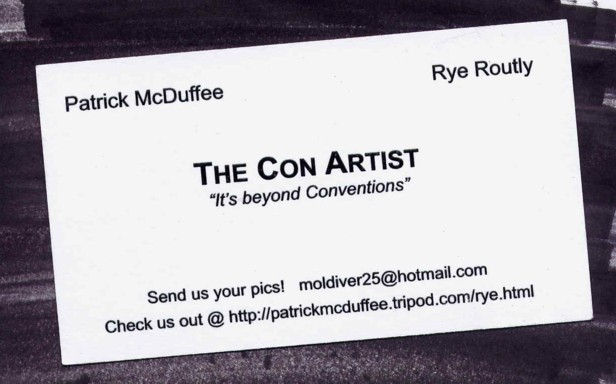 The Card. Have you got yours yet?

If you have convention pics or just think our site is cool or funny we would love to hear from you. Shoot us an email at moldiver25@hotmail.com


find out more at cosplay.meetup.com